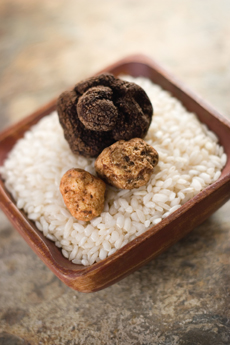 Costlier than gold: the Périgord truffle of France and the white Alba truffle of the Piedmont, in Italy. Photos by Kelly Cline | IST.
KAREN HOCHMAN is Editorial Director of THE NIBBLE.
December 2006
Updated January 2009

Truffles: An Overview & Glossary
Page 11: Truffle Recipes

This is Page 11 of a 12-page article. Click on the black links below to visit other pages.
Truffle Recipes
There are many glorious recipes using truffles, but you don't have to spend hours making Tournedos Rossini or spend $1,000 on a pound of truffles. A couple of ounces goes a long way, using these time-honored techniques:
Leave a fresh black truffle overnight in a basket of eggs: The eggs will absorb the truffle flavor. The next morning, you can have truffled scrambled eggs, and cook your evening meal with the truffle. Be sure the eggs are clean and dry and wipe them if any moisture appears: Moisture will cause the truffles to rot.

Leave a truffle in arborio rice: It scents the rice for risotto, and you can use the truffle in another dish—but leave a few shavings for the risotto.

Make scrambled eggs with quality, unsalted butter and top with thin shavings of white truffle.

Our favorite: simple angel hair pasta tossed with truffle butter (or top-quality unsalted butter) and topped with shaved truffles. Heaven!




Risotto with shavings of truffle and Parmigiano-Reggiano cheese.
Truffles' aroma is released as soon as they are warmed through: Prolonged cooking and/or high heat to not improve the flavor.
Here are three great truffle recipes:
One of our favorite ways to enjoy truffles. It's not just for breakfast: It's a pretty princely lunch or even dinner dish.
Serves 1
Ingredients
3 eggs
1 ounce (30g) truffles
1 teaspoon crème fraîche
Unsalted butter
Directions
Beat the eggs lightly, season with salt and pepper (preferably white pepper).
Slice half of the truffles, add to the beaten eggs and let sit 1/2 hour.
Melt 1 ounce butter in a double boiler‡. Add the eggs and cook slowly over low heat, stirring constantly
Add crème fraîche.
When nearly done, slice the remaining truffle on top of the eggs, then turn the eggs so the truffle blends in. Serve immediately.
‡NOTE: Professional chefs will cook this dish in a ceramic skillet over a water bath. The key to making perfect scrambled eggs is slow-cooking, which is easier over a water bath than a flame.
Not So Quick Prep:
Tournedos Rossini Recipe
Serves 4
Ingredients
1 tablespoon butter
4 slices of foie gras, approximately 3 ounces each
4 beef tournedos
4 slices of toasted fine-quality thin-sliced white bread, crusts removed,
trimmed to same size as tournedos
1 tablespoon olive oil
3 garlic cloves, finely sliced
1/2 cup of demi-glace*
2 sliced black truffles (or 1/2 cup wild mushrooms)
1 tablespoon Madeira
2 tablespoons butter
*Demi-glace is a type of brown sauce traditionally made in professional kitchens by combining equal parts of beef or veal stock and with espagnole sauce (a reduction of brown stock, brown roux, bacon fat, onions, carrots, celery, tomato purée and seasonings). It is very labor-intensive. Demi-glace concentrates can be bought at specialty food stores; or home cooks can use a simple reduction of veal stock as follows:
In the pan, deglaze the pan juices with 3 ounces of veal stock plus 3 drops of Port, 2 drops of brandy and 2 drops of Madeira. Allow to reduce.
Directions
In a hot frying pan mix butter and oil; season the tournedos with salt and pepper and fry rapidly to seal.

In a nonstick pan, rapidly fry the foie gras (one side only) and place on absorbent paper.

Braise the truffles or mushrooms in 1-2 tablespoons butter with a spoonful of Madeira wine.

Add the demi-glace and let simmer for approximately 3 minutes. Keep hot.

To serve, place each of the tournedos on a slice of toast. Top with a slice of foie gras garnished with sliced truffles. Cover everything in sauce. Serve immediately.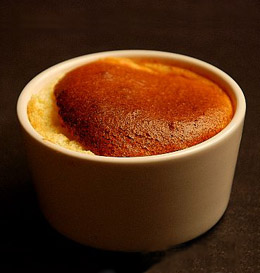 We found an impressive-looking recipe on a food blog: The recipe is from La Truffière, a Paris restaurant specializing in black truffle. It is called Le Soufflé Chaud à la Truffe Mélanosporum, Grand Marnier Black Truffle Melanosporum Soufflé with Orange Brandy Liqueur (Grand Marnier or any comparable liqueur can be used—click on the link for the recipe). The writer, François Micheloud, lives in Switzerland and gets to La Truffière more often than we can. We envy him! But we are thankful that he has painstakingly documented the preparation of this recipe.
Photo of soufflé courtesy of François Micheloud, F-X.com.
Continue To Page 12: Truffle Tours, Truffle Books
© Copyright 2005-2014 Lifestyle Direct, Inc. All rights reserved. Images are the copyright of their respective owners.