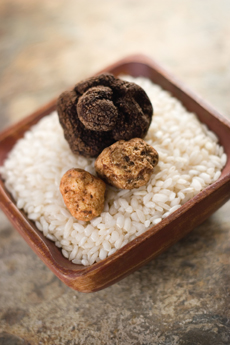 Costlier than gold: the Périgord truffle of France and the white Alba truffle of the Piedmont, in Italy. Photos by Kelly Cline | IST.
KAREN HOCHMAN is Editorial Director of THE NIBBLE.
December 2006
Updated January 2009

Truffles: An Overview & Glossary
Page 6: Black Truffles

This is Page 6 of a 12-page article. Click on the black links below to visit other pages.
Truffle Glossary: Black Truffles, The Fabulous Fungi Of France
(With Some In England, Italy & Spain)
Essentially, there are two great truffles. Tuber melanosporum, the black Périgord truffle, and Tuber magnatum pico, the white Alba truffle. The others here, lesser truffles, can still be tasty; they're just not a celestial experience worth $1,000 or $2,000 a pound. They lack both the incredible aroma and the intense flavor.
Black Winter Truffle. This is an unspecific term. If someone is marketing it as such, it is most likely not the Périgord truffle, or it would be promoted as such. It may be a Bourgogne or a Brumale, or even a Chinese or Oregon black truffle.
Bourgogne or Uncinatum (boor-GUN-yuh). The Bourgogne truffle, Tuber uncinatum chatin, is closely related to the the Summer Black Truffle, Tuber aestivum. It is found in the Dordogne between October 1 and December 31, and has a chocolate smell and taste. It is perhaps the second-best truffle in France, after the Périgord truffle. It is black with large, pointed warts that form in a diamond; the flesh is a chocolate-brown color.
Brumale (broo-MAHL). Tuber brumale is harvested between November 1 and March 15 on the same sites as the Périgord truffle. Unfortunately, before it is washed (then, you can see that the polygon mosaic surface, called the peridio, is less well-defined), Tuber brumale can look a lot like the Périgord truffle both outside and inside* and can be sold to the unwary as such. But, caveat emptor: Instead of the amazing earthy aroma of the Tuber melanosporum, the Périgord truffle, Brumale is much less developed, lacking the heavenly complexity of Melanosporum. One variety, the musk brumale, smells of turnip nuanced with garlic and tastes very peppery and characteristically turnip-like. It sells for half the price of the Périgord truffle. Our suggestion: Save your money and wait for a fresh Périgord truffle. Don't buy rump roast when you want to know what wagyu tastes like.
*The flesh tends to be lighter, with have more pronounced veins.
Melanosporum or Périgord Truffle (Winter Black Truffle) (pay-ree-GORE). Perhaps the most well-known truffle in the world is the winter black truffle, Tuber melanosporum vitt., more famous as the Périgord truffle or "truffe du Périgord" (see the photo at the top of the page). Called the queen of truffles (or the princess, by the writer Colette), it is found in southern France, and in some parts of Spain and Italy. Depending on region, it reaches maturity between November 15 and March 31: The height of maturity in Périgord is January. It grows four to five inches underground, generally in oak forests; its appearance is black with a skin that has been called both warty and diamond-like. The flesh ranges from chocolate brown to nearly black with delicate white veining. The aroma and taste are earthy—of forest undergrowth, damp earth, and roasted dry fruits—and it has a long and memorable aftertaste. It is worth its weight in gold, and then some. At $1,000 to $2,100 per pound retail, it is nicknamed "black diamonds" due to the combination of the faceted skin (a striking mosaic of interlocking polygons) and its high price. The flesh ranges from chocolate to nearly black with delicate white veining. The aroma and flavor are intoxicating and uniquely melanosporum. Unfortunately, the price is likely to go higher: Since the late 19th century, Périgord's truffle crop has been declining, and is estimated to be just 5% of what it was over a century ago. The French resisted the thought of cultivating the truffle, but recent scientific advances have led to inoculating the roots of traditional host trees, that are being tested in hospitable environments around the world. Melanosporum is also found in Italy, in the region of Norcia in Umbria.
Summer Black Truffle (Aestivum, Truffe d'Été [TROF day-TAY]), Truffe de St. Jean). The Summer Black Truffle, Tuber aestivum vitt, is found in southern France, Spain, southern England (it is also known as the English truffle) and Italy. It tends to be larger and tougher than the Melanosporum, has a smoother surface and a lighter interior, or glebe, often as white as in the photo at the right. It has a taste of forest mushrooms and a subtle aroma of "underwood" or underbrush—not as pungent and aromatic as the black winter truffles but nice in salads and as a flavoring element in sauces and soups. Its season is May 1 through September 30.

There are other truffles that grow throughout France, but like most other truffles found in temperate, moist regions throughout the world, the are without much flavor and aroma, and not worth the expense: Wild mushrooms, commonly available and very affordable, provide much more enjoyment.


The summer black truffle, Tuber aestivum, has a smooth surface and a lighter interior, or glebe.
Most black truffle-based products (truffle butter, truffle oil, truffle paste) use the summer black truffle.
Continue To Page 7: Truffle Glossary ~ Black Truffles, Continued
© Copyright 2005-2014 Lifestyle Direct, Inc. All rights reserved. Images are the copyright of their respective owners.