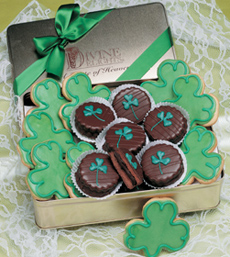 You can wear the green...and you can eat it! These tasty cookies from are from
Divine Delights
.


MARCHING FORWARD...
This is our second full online issue of THE NIBBLE™, both a challenge and an achievement after two years of publishing our weekly newsletter, or e-mailed newsletter, which reviews just one product.
After each issue is published, the articles get archived by category in the Product Reviews section, which you can reach by the pull-down menu on the top navigation bar. Our goal is to build the largest archive of reviews and articles focusing on specialty foods and gourmet products, for reference by everyone interested in this fast-growing category.
This month, we focused on three areas we get so many letters about: chocolate, toffee/buttercrunch, and pasta. We've created an extensive Chocolate Glossary as a fundamental reference guide. It explains a lot: we don't know of any reference source anywhere near as extensive or comprehensible. We similarly provided a lot of pasta basics. It's amazing how much there is to learn! And we did have fun tasting some great toffees and coming up with both product reviews and other interesting approaches to the category for you.
If you're not already receiving THE NIBBLE's weekly newsletter, click here to have our top food pick of the week delivered directly to your e-mailbox. Of the thousands of specialty foods we taste each year, these are our favorites for both home use and gift-giving. You won't want to miss them!
We look forward to your comments and any suggestions you have about how we can make THE NIBBLE™ magazine and newsletter more valuable to you. Click here to send us a note.


THE NIBBLE™ does not sell the products we review or receive
fees from recommending them.
Our recommendations are based purely on our opinion,
after reviewing thousands of products each year,
that they represent the best in their respective categories.


Related Food Videos:



For more food videos, check out The Nibble's Food Video Collection.


© Copyright 2005-2015 Lifestyle Direct, Inc. All rights reserved. Images are the copyright of their respective owners.