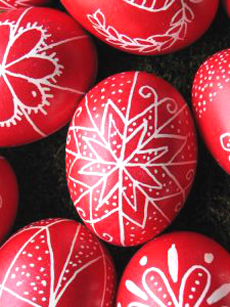 Photo of decorated Easter eggs by Tibor Fazakas | SXC.
KAREN HOCHMAN is Editorial Director of THE NIBBLE.
April 2007
Updated April 2009

Easter & Spring Dinner Ideas
Quick Tips Page 2: "Easter Egg" Salads
This is Page 2 of a six-page article. Click on the black links below to visit other pages.
"Easter Egg" Salads
Easter Egg Salad #1. Quail eggs are small, beautifully speckled in blue and brown, and make a spectacular first course or salad course, hard-boiled and nestled at the front of a lightly-dressed mesclun salad (set 3 in a lettuce leaf "cup"). Check around to see if you can find quail eggs (or click here to purchase them online). Boil the eggs for 5 minutes with a teaspoon of vinegar, and serve them warm or at room temperature in the shell. Provide ramekins of salt water so diners can simultaneously rinse and salt their eggs after they've peeled them. Snip some fresh herbs (chives, parsley, dill) into the salad, and you have an exciting spring dish that takes very little time to make.
Easter Egg Salad #2. Grape tomatoes are somewhat egg-shaped, and in bright yellow and red they have a festive easter-egg appeal. Add a handful to your salad along with small basil leaves. It will be tempting enough to attract Peter Rabbit to the door.
Easter Bread
Bread is a metaphor for the resurrection of Christ, and several cultures have a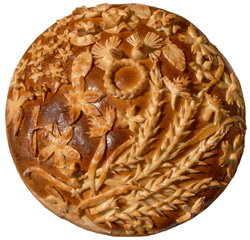 celebratory Easter bread—often a rich, sweet yeast style baked with eggs, fruits and nuts.
Even if you don't celebrate Easter, enjoy its culinary treasures by sampling these delicious baked goods. If you can't find them at bakeries in your town, find recipes on the Internet. Assign different breads to friends and have everyone bring one—you can start an exciting "Easter Saturday" tea tradition.


Continue To Page 3: Easter Cocktail Ideas
© Copyright 2005-2015 Lifestyle Direct, Inc. All rights reserved. Images are the copyright of their individual owners.