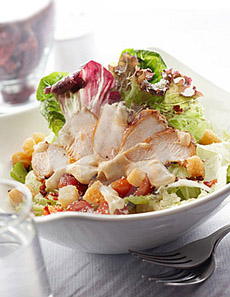 Restaurateur Caesar Cardini would be proud of this glamorous Chicken Caesar salad, with red leaf romaine. Photo © Okea | Dreamstime.
January 2010
Last Updated August 2010

Caesar Dressing

Creamy Caesar Salad Dressing
CAPSULE REPORT: This is Page 3 of a four-page article about the Caesar Salad. Click on the black links below to visit other pages.
Creamy Caesar Salad Dressing Recipe
While not part of the original recipe, a creamy Caesar dressing based on mayonnaise and Parmesan cheese has become the popular solution over the years. Here's a delicious recipe, courtesy of McCormick. Remember that freshly-grated Parmesan cheese, freshly-minced garlic and freshly-squeezed lemon juice make a big difference.
Ingredients

1/2 cup mayonnaise
1/4 cup grated Parmesan cheese
2 tablespoons lemon juice
1 tablespoon minced garlic or
McCormick Garlic with Extra Virgin
Olive Oil
1 to 2 anchovy fillets, mashed
1/2 teaspoon Dijon mustard
1/2 teaspoon Worcestershire
sauce
1 tablespoon milk
1 package (10 ounces) torn
Romaine lettuce
1 cup croutons
1 head romaine


Don't you want to jump in with a fork? Photo courtesy McCormick

.com.
Fresh-ground black pepper to taste
Optional broiled/grilled chicken strips or shrimp (for a main dish salad)
Preparation
Mix mayonnaise, Parmesan cheese, lemon juice, garlic anchovies, Dijon mustard and Worcestershire sauce in small bowl until well blended. Stir in milk. For a thinner (and less caloric) dressing, add more milk. Refrigerate dressing until ready to use.

To serve, toss lettuce and croutons in large bowl. Add dressing; toss to coat well.

Sprinkle with fresh black pepper from a peppercorn grinder and additional Parmesan cheese, if desired.

For Chicken or Shrimp Caesar Salad, top with grilled chicken or shrimp. Some people add bacon and hard-boiled eggs, but this is a Cobb Salad-Caesar Salad fusion.
Continue To Next Page: Caesar Salad Pizza Recipe
Recipe © Copyright 2008 McCormick & Company, Inc. All rights reserved. Other material © Copyright 2005- 2015 Lifestyle Direct, Inc. All rights reserved. Images are the copyright of their respective owners.