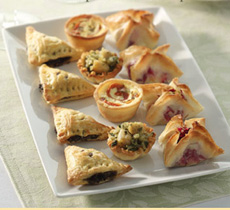 Yes, you made them: you turned on the oven and cooked the frozen hors d'oeuvres. And you did a great job!

Good Wives
Creative Cooks Making Great Hors D'Oeuvres
In the beginning, there were food-lovers with cocktails...

...and with their cocktails, they required something fine to eat. And they were served Good Wives hors d'oeuvres. And the foodies said: these are good!
In fact, if all wives were this good—and husbands too—there would be total connubial bliss and matrimonial lawyers would be out of a job.

While they can't promise marital bliss, the Good Wives can fork over some gustatory happiness. They make hors d'oeuvres as fine as you could hope to serve in your home. And they make them available to you (as well as to caterers and restaurants).
The hors d'oeuvres are an annual finalist in the industry's major awards competition and have taken home the Gold—and that's no mean feat. But when you're this pretty and taste as good as you look, how can judges resist?
Good Wives make dozens of varieties of lovely, hand-made hors d'oeuvres: the kind that make you want to take the entire tray from the server and just skip the dinner. There are buttery and flaky options ranging from the classic to the nouvelle. A full list is on the website, but here's a taste:
Classic Styles: Shrimp Newburg Mini Quiche, Asparagus and Mushroom Puff Pastries, Smoked Salmon Fillo Flowers
Ethnic Favorites: Spanakopita, Spring Rolls, Black Bean Empañadas, Samosas in Fillo
Nouvelle Tastes: Spinach & Goat Cheese Flatbreads, Gorgonzola & Fig Fillo Rolls, Thai Scallop Fillo Cups
The hors d'oeuvres are quick frozen immediately after preparation, so the flavor is locked in. In your hands they go straight from freezer to oven, and bake up perfectly.

Whether you're having 8 for dinner or 80 for cocktails you need consider no other pre-dinner food: these will delight your guests. There is so much variety, it can seem as if you've planned a banquet of hors d'oeuvres for them.
While Good Wives products are available at some fine retail stores, you can have them overnighted to you. First, study the choices because there's almost too much of a good thing. Ideas:
The best sellers are: Spanakopita, Mushroom Fillo Triangle, Mushroom Profiterole, Brie/Pear/Almond Fillo Flower, and Asparagus Mini Quiche.
The Wives' personal favorites are: Ruby Beet Fillo Star (above), Cilantro Pesto Quesadilla, Caramelized Onion Flatbread, Crab Puff Pastry, and Olive Tapenade Stick.
You can organize around themes: Mediterranean, Asian, Southwest, Seafood, et al.
Click here for a chart to determine how many pieces you'll need. Then phone in your order.
If you can pick some up at a retailer near you, do—and keep them in your freezer's

Cabinet of Magic Tricks

to impress the in-laws, the neighbors, or when Dagwood brings Mr. Bumstead home for cocktails.
GOOD WIVES HORS D'OEUVRES

Many styles and flavors
Visit the website to view the selection and call to discuss your needs:
1.800.521.8160
© Copyright 2005-2015 Lifestyle Direct, Inc. All rights reserved. Images are the copyright of their respective owners.