Types Of Bacon: A Glossary Of The Different Bacon Types
Page 1: Terms With A To L
Different types of bacon are cut from different parts of the pig. While they have in common the salting and curing of the meat, the appearances, textures and flavors vary. Bacon can be cut into strips or rolled (to be cut during preparation). Also see our Pork Glossary, Beef Glossary and Lamb Glossary. We have a food glossary for almost every category of food.
This glossary is protected by copyright and cannot be reproduced in whole or part.
You are welcome to link to it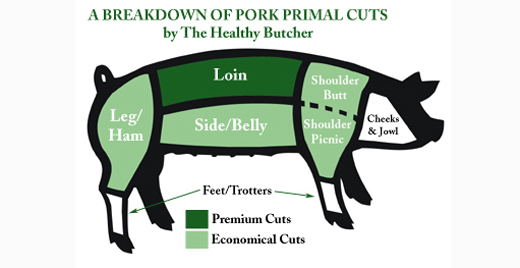 AMERICAN BACON
See streaky bacon.
BACK BACON, CANADIAN BACON or IRISH BACON

Back bacon is usually cut thicker than American "steaky" bacon. This cut comes from the loin of the pig which is located in the middle of its back; hence the term back bacon. The fact can be easily trimmed, making back bacon a very lean, meaty cut of bacon with a ham-like texture. However, Irish bacon maintains a layer of fat around the meat to enhance the flavor.




Back bacon. Photo courtesy OnlyWithTilia.com.
BACON
A cut of pork that is salted, then cured. The result, fresh bacon (also known as green bacon), may further be air-dried, boiled or smoked. In the U.S., more than 70% of bacon is consumed at breakfast, although bacon is also very popular on hamburgers and sandwiches. The difference among bacon, ham and salt pork is in the brining. Bacon brines have added curing ingredients, ham brines often include a large amount of sugar. Sodium polyphosphate can be added to bacon to improve sliceability and reduce spattering in the pan.
BEEF BACON

Beef bacon is a product made from a steer's belly meat, close to the flank area. It is smoked and flavored with spices to taste like bacon. It is generally made by producers of healthier, grassfed beef, who create a "leaner, healthier bacon" (beef bacon is up to 90% leaner than pork bacon). Beef bacon also contains the Omega 3's and CLA of grassfed beef. It can be found at health food stores, special-ordered from butchers, and ordered online from producers such as GrasslandBeef.com.




Beef bacon. Photo courtesy GrasslandBeef.com.
COTTAGE BACON

A meaty, lean meat from the pig's shoulder that is cured and cut into thin, oval slices for baking or frying. It is a meatier bacon, often smoked with hickory flavor.

GAMMON

The hind leg of the pig.




Cottage bacon. Photo courtesy HiddenStreamFarm.com.
JOWL BACON or GUANCIALE

Bacon made from the cheeks of the pig. Smoked and then sliced or rolled, guanciale (pronounced gwon-CHA-lay) is traditionally used in dishes like pasta all'amatriciana and spaghetti alla carbonara. It is a delicacy of central Italy, particularly Umbria and Lazio. Pancetta can be substituted in recipes.

HICKORY SMOKED BACON

Bacon smoked over hickory chips or otherwise infused with hickory flavor.

HOCK

Bacon is also made from joint meat. The hock is the ankle joint of the pig, found between the ham and the foot


Guanciale. Photo by K.D. Weeks.
HUNGARIAN BACON
See szalonna.
JOWL BACON
See guanciale, above.
Continue To Page 2, Terms P To Z
Go To Glossary Alphabet Index Above
PANCETTA

Pancetta is Italian back bacon, available smoked or unsmoked. It is typically salt cured and seasoned with spices (fennel, garlic, nutmeg, peppercorns, even hot chile flakes) and then dried. It can be sold in straight strips or in rolls.a cured Italian bacon which is normally not smoked, can be used as a substitute when guanciale is not available




Pancetta. Photo courtesy FraMani.com.
PEPPER BACON

Bacon that is seasoned with cracked peppercorns after smoking.




Pepper bacon. Photo by Claire Freierman | THE NIBBLE.
PORK BELLY or SIDE PORK

This is the area on the lower side and underside of the pig from which American bacon ("side bacon" or "streaky bacon") is cut (see chart above). Though a fattier meat, it can be diced for stir-fry, rolled for roasting or cut into square or rectangular "steaks"—a preparation that has become popular at chic restaurants in the last five years.

RASHER

A slice (or a portion of three to four slices) of bacon.


Beef jerky. Photo by Michael Steele | THE
NIBBLE.
SALT PORK OR SIDE PORK
This is bacon from the pork belly that is more fat than lean. It can be fried and eaten as regular bacon; and the bacon grease is prized (although not by cardiologists) for cooking onions, greens, frying potatoes, and so forth.
SIDE BACON or STREAKY BACON

"American" bacon, the meat comes from the pork belly. It is very fatty with streaks of meat running parallel to the fat—hence the term "streaky" bacon.


Photo courtesy Ace Enters | Wikimedia Commons.
SLAB BACON
Refers to the process of beef changing from a dark purple (as seen in vacuum-packaged meat) to bright cherry-red color when exposed to oxygen.
SZALONNA
Szalonna is the Hungarian term for back bacon. It is made of smoked pork fat with the rind, and is often sold ready to eat (no cooking required).
VENTRÈCHE
The French word for pancetta.
© Copyright 2005- 2014 Lifestyle Direct, Inc. Some definitions were provided by the Cattlemen's Beef Board and are © Copyright 2005 Cattlemen's Beef Board. All rights reserved. Images are the copyright of their respective owners.