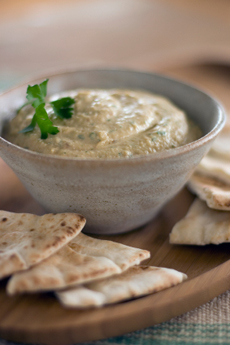 Black garlic gives a subtle darker color and subtle interesting flavor to hummus. Photo by S.F. Foodphoto | SXC.
ERIC DANTIS is a professional chef in New York City.

Black Garlic Recipe
Page 3: Black Garlic Hummus
This is Page 3 of a four-page article: a black garlic recipe. Click on the black links below to visit the other pages.
Black Garlic Hummus
This recipe for Black Garlic Hummus plays with the color and flavor in hummus. The result is a coffee ice cream-colored hummus with a nuance of garlic flavor. The black garlic also provided the slightest notes of tartness, which played nicely in the dish. Surprise your guests and family: They'll note something new and special, but they won't know what it is. The recipe, developed by Chef Eric Dantis, makes roughly 3/4 quart.
Ingredients
2 cans garbanzo beans
½ to ¾ cup extra virgin olive oil, plus more if needed
Juice of 2 lemons
6-8 cloves black garlic (or more, to taste)
2 teaspoons cumin
1 teaspoon paprika
Salt and pepper
Pita, crudités or other dippers (tip for toasting pita)
Preparation
Combine garbanzo beans, ½ cup extra virgin olive oil, the juice from one lemon, black garlic, cumin, paprika, salt and pepper in a blender* or food processor and process until smooth.

If the hummus does not blend properly, add a little more olive oil, water and lemon juice. The key is to add just enough liquid so the blades catch the garbanzo beans, but not so much liquid that you end up with the consistency of soup.

Tweak the ingredients by adding enough liquid to end up with hummus that has a consistency slightly less thicker than creamy peanut butter, with a lemon-black garlic flavor.
*If using a blender and the hummus gets stuck or is not blending properly, turn off machine, add a few spoonfuls of water, stir with a spoon and blend again.
Continue To Page 4: Black Garlic Potato Hash With Black Garlic Oil Recipe
© Copyright 2005- 2015 Lifestyle Direct, Inc. All rights reserved. Images are the copyright of their respective owners.