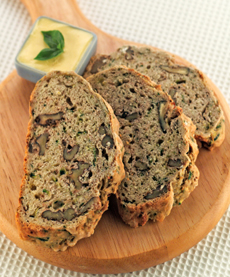 You can enjoy zucchini bread in a variety of delicious ways. Photo by Andrew Furlong | IST.

Zucchini Bread Recipe
With An Option For Chocolate Zucchini Bread
Zucchini Bread Overview
Zucchini bread first became popular in the 1960s. The hippie movement was in full swing, and hippies sought healthier foods. As an alternative to the sugary frosted layer cakes and sheet cakes of the time, sweet quick breads like zucchini bread and carrot cake became popular, modeled after banana bread. As with bananas, the high water content of the zucchini adds moisture to the cake.
This lovely tea bread contains grated zucchini, chopped pecans or walnuts, and optional ingredients such as coconut, grated apple, raisins, sultanas and even chocolate chips.
We enjoy it instead of a breakfast muffin.
It's perfect as a tea bread, plain or with cream cheese frosting.
The loaves freeze well. You can cut slices from the frozen loaf and microwave for 10 seconds.
Grated zucchini and its accompaniments (nuts, grated apple, etc.) can also be added to a yellow or chocolate cake mix.
Don't think that, because it contains vegetables, zucchini bread is health food. Yet, zucchini contains lutein, a phytochemical believed to protect vision. Baking with the optional whole wheat flour helps.
FOOD TRIVIA: Zucchini is not a vegetable but a fruit. It carries its seeds on the inside, like all other true fruits. Strawberries are an "accessory fruit" (previously known as a false fruit), a category where the fruit's flesh is derived not from the ovary of the plant, but from some adjacent tissue. Other examples include figs, apples and pears. The strawberry is the only "fruit" with seeds on the outside. The "seeds" are actually incorporations of the pistils of the flower of the plant.
Zucchini Bread Recipe
Makes two 5x9-inch loaves.
Ingredients
1-1/2 cups chopped walnuts or pecans, plus a few tablespoons for
optional garnish (optional)
1/2 cup unsalted butter
1 cup sugar
1/2 cup brown sugar, lightly packed
3 large eggs
2 teaspoons vanilla extract
3 cups grated zucchini (about 3 medium zucchini), skins on*
3 cups whole wheat pastry flour (or all-purpose flour)
For chocolate zucchini bread: 1 cup semisweet chocolate chips†
1-1/2 teaspoons baking soda
1/2 teaspoon baking powder
1 teaspoon salt
1 teaspoon cinnamon

*If you have extra grated zucchini, use it as a soup garnish or toss it into a salad.

†For chocolate zucchini bread, omit the optional add-ins below except for the crystallized ginger option, either mixed in or used as a garnish.

Optional Add-Ins

1 large grated Granny Smith apple
1/2 cup chocolate chips (dark, milk, white or a combination)
1/2 cup flaked coconut (sweetened or unsweetened)




A tasty loaf. Photo by R. Tyree | IST.
1/2 cup crystallized ginger, finely chopped (we enjoy using the ginger as
a crunchy topping instead of incorporating it into the batter—see Step 9 below)
1/3 cup poppy seeds
Zest of two lemons
Chopped nuts for garnish
Preparation
Preheat your oven to 350°F with a rack in the middle of the oven.
Butter and the two loaf pans (or use a baking spray) and set aside. Or, line the pans with a parchment, leaving 2-3 inches hanging over the long side as to lift the zucchini bread out of the pan with ease.
Combine the walnuts and add-ins (apple, chocolate chips, coconut, etc.) in a bowl. Set aside.
In a large bowl, beat the butter until fluffy with a mixer. Add the brown and white sugars and beat until mixture is smooth, not crumbly.
Add the eggs one at a time, mixing well. Scrape down the sides of the bowl with each addition. Add the vanilla.
Squeeze excess water from the zucchini. Turning the mixer to Low, incorporate into the mix.

In a separate bowl, combine the pastry flour, baking powder, baking soda, cinnamon and salt. Add half of the dry mix to the wet ingredients; incorporate, and add the other half.

Fold in the add-ins with a spatula.
Divide the batter equally between the two loaf pans and level with a spatula. Sprinkle crystallized ginger or chopped nuts on top.
Bake for 40 minutes, or until a cake tester or toothpick comes out clean. Cool in pan for 15 minutes; then turn out onto a wire racks to finish cooling.


Related Food Videos:



For more food videos, check out The Nibble's Food Video Collection.


© Copyright 2005- 2015 Lifestyle Direct, Inc. All rights reserved. Images are the copyright of their respective owners.