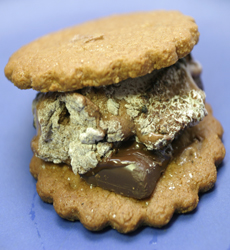 We made this incredibly delicious S'mores with Tiny Trapeze graham crackers and chocolate marshmallows, and a Chocolove 77% cacao Extra Strong Dark chocolate bar. All photography by Elton Lin.
KAREN HOCHMAN is Editorial Director of THE NIBBLE.
October 2005
Updated August 2008

A Gourmet S'mores Party
Page 2: Graham Cracker S'more Recipes


This is Page 2 of a three-page article. Click on the black links below to visit other pages.
The Process

1. Review the recipes below, and choose some (or all). Or, create your own.

2. Invite an appropriate group of revelers for dessert.

3. Set each person up with the ingredients to make his or her S'mores—by roasting the marshmallows over the votive, then sandwiching them on cookies with a slab of chocolate. Don't use Sterno—it imparts a chemical taste to the marshmallow. If you don't want to use flames, Tiny Trapeze's Marshmallow Creme is a heavenly option.

Tiny Trapeze chocolate and vanilla marshmallows.
Gourmet Graham Cracker S'mores Recipes

Tiny Trapeze all-natural Marshmallow Creme, available at Whole Foods Markets.


1. The Classic S'more Recipe

Take 2 graham crackers
Top one with a one-ounce square of chocolate
Toast a marshmallow
Place toasted marshmallow on top of chocolate
Put second graham cracker on top to complete the "sandwich"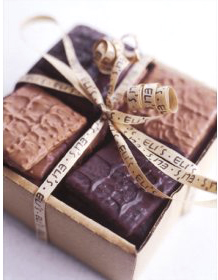 2. The Chocolate Graham S'more Recipe
Take 2 chocolate-covered graham crackers (we used these beauties from Eli Zabar (photo at right); and have also used Jo's chocolate grahams, which are sweeter (Jo's Candies private labels the chocolate-covered graham crackers sold at Starbucks)
Place a toasted marshmallow between two cookies
For a quick, no-flame treat, use marshmallow creme as a "sandwich filling"
3. The Uramaki S'more Recipe
Uramaki is the "reverse roll" at the sushi bar. We call this version the "Sumo," for reasons soon to be apparent.
Take 2 chocolate bars, one milk, one dark
Top each with a graham cracker
Top each graham with toasted marshmallows or marshmallow creme
Sandwich together....or if the thought is too daunting, eat each as an open-face sandwich
4.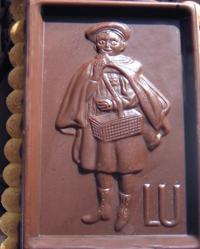 The French S'more Recipe
Use Petite Écolier (Little Schoolboy) cookies—butter cookies with a real chocolate bar embedded on top—instead of graham crackers and chocolate (photo at right)
Sandwich a toasted marshmallow between two cookies
Bon appetit!
Continue To Page 3: Ice Cream S'mores Recipes

© Copyright 2005-2013 Lifestyle Direct, Inc. All rights reserved. Images are copyright of their respective owners.