A Gourmet S'mores Party
Page 3: Ice Cream S'more Recipes


This is Page 2 of a three-page article. Click on the black links below to visit other pages.
Ice Cream S'mores
5. Ice Cream Sandwich S'more Recipe
Top a graham cracker with layer of marshmallow fluff and sprinkle with chocolate morsels.
Add a small scoop of chocolate ice cream.
Top with another graham cracker.
6. Deconstructed Sundae S'more Recipe
In a parfait dish or wine goblet, layer vanilla ice cream with graham cracker pieces, chocolate morsels and mini marshmallows.
Top with a hot toasted marshmallow.
Serve with whole graham crackers.
7. S'mores Ice Cream Pie or Tart Recipe
This is a recipe to make in advance as an ice cream pie or individual tarts; and can be served as a "chaser" to the gooier cookie S'mores.
In advance, make a graham cracker crust.
Make S'mores ice cream by softening vanilla ice cream and mixing in chocolate morsels, mini marshmallows, ad graham cracker pieces. Spoon softened ice cream into pie shell and return to freezer.
To serve, top with shaved chocolate curls and a side of marshmallow creme.
More Regarding S'mores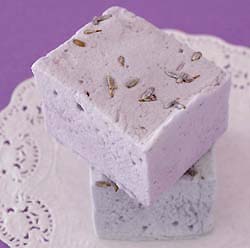 If you don't think we've hit on the ideal S'mores recipe, click here to tell us what it should be.
If you want to send someone the gift of S'mores, Recchiuti Confections sells kits.
Check out Godiva's S'mores and another S'mores recipe.
Learn more about marshmallows, our favorite gourmet marshmallows, and another S'mores recipe. Discover amazing flavors of marshmallows—like the lavender marshmallow at the right—that will give you inspiration for gourmet S'mores galore.
Go To Page 1: Party Ingredients

© Copyright 2005-2013 Lifestyle Direct, Inc. All rights reserved. Images are copyright of their respective owners.