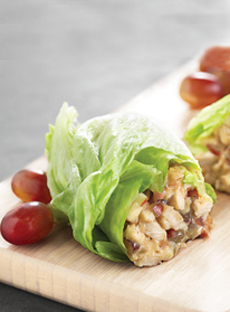 Save the carbs by forgetting the bread and wrapping lettuce around peanut butter instead. Photo courtesy The J.M Smucker Company.


2010 Peanut Butter Sandwich Recipe Winners
Recipe 3: PB & Fruity Says "Let Us Rap"
CAPSULE REPORT: This is the third of five award-winning, delicious and nutritious recipes developed by children in Jif's annual "Most Creative Peanut Butter Sandwich" college scholarship contest. Click on the black links below to see the other recipes. For more peanut butter recipes and product reviews, visit our Gourmet Peanut Butter Section.
PB & Fruity Says "Let Us Rap"
Rachel Granillo, 10, of Clovis, California was awarded a $25,000 college scholarship for her grand-prize-winning PB & Fruity says "Let Us Rap" creation. Favorite fruits and peanut butter are packed into this simple, lettuce-wrapped chicken sandwich—no bread carbs! Add a bit of honey and lite mayonnaise and you end up with a low-carb way of enjoying a delicious chicken sandwich.
Ingredients
½ cup chopped cooked chicken breast
2 tablespoons extra crunchy peanut butter
3 tablespoons chopped Fuji apple
2 tablespoons chopped black or red grapes
1 tablespoons lite mayonnaise
2 teaspoons honey
Iceberg lettuce
Preparation
Chop up chicken and fruit and mix together in a bowl.
Stir in peanut butter, mayonnaise and honey.

Spoon into open lettuce leaf, roll and serve.

Next Recipe: Peanut Butter & Banana Quesadilla With Fresh Fruit Salsa & Vanilla
Yogurt
Recipes © Copyright The J.M. Smucker Company. All other material © Copyright 2005- 2015 Lifestyle Direct, Inc. All rights reserved. Images are the copyright of their respective owners.