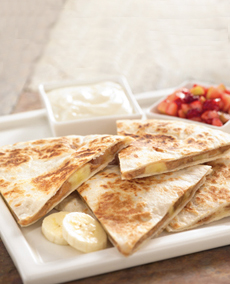 Elvis would love this peanut butter and banana creation, even though it features the much healthier fruit salsa and yogurt instead of his favorite bacon. Photo courtesy The J.M Smucker Company.


2010 Peanut Butter Sandwich Recipe Winners
Recipe 4: Peanut Butter & Banana Quesadilla With Fresh Fruit Salsa & Vanilla Yogurt
CAPSULE REPORT: This is the fourth of five award-winning, delicious and nutritious recipes developed by children in Jif's annual "Most Creative Peanut Butter Sandwich" college scholarship contest. Click on the black links below to see the other recipes. For more peanut butter recipes and product reviews, visit our Gourmet Peanut Butter Section.
Peanut Butter & Banana Quesadilla With Fresh Fruit Salsa & Vanilla Yogurt
Nine-year-old Lauren Wright from Waukesha, Wisconsin, has a very particular way of making her Peanut Butter & Banana Quesadilla: She ensures that there's a bit of banana in each peanutty bite. Be sure to dip the quesadilla in the fresh fruit salsa and/or vanilla yogurt for an extra wow factor. With this recipe, the fruit salsa and yogurt should be prepared first—right before making the quesadilla.
Ingredients
¼ cup creamy peanut butter
2 large flour burrito size tortilla
1 banana
1 kiwi
1/2 golden delicious apple
5 large strawberries
18 raspberries
1 teaspoon strawberry preserves
6 ounces lowfat vanilla yogurt
Preparation For The Quesadilla
Take 1 large flour tortilla and add ¼ cup creamy peanut butter to the center of the tortilla. Spread the peanut butter out evenly, leaving about 1 inch of tortilla around the entire outside of the tortilla.

Slice the banana into thin slices (making circular pieces). Place bananas evenly on top of peanut butter.

Place the second flour tortilla on top, then place quesadilla in pre-heated quesadilla maker for 5-7 minutes or in 10" non-stick frying pan for 5-7 minutes, turning once.

Cut into 6 triangular pieces and serve with vanilla yogurt and fruit salsa.
Preparation For The Fruit Salsa & Vanilla Yogurt
Take the skin off 1 kiwi, finely chop and place into a small mixing bowl.

Seed and core the apple, then finely chop half of the apple and add to the mixing bowl.

Hull strawberries, then finely chop both strawberries and raspberries and add to the mixing bowl.

Stir in strawberry preserves and blend all fruit.

Place fruit salsa into a small serving dish alongside a 6-ounce serving of vanilla yogurt.

Next Recipe: Peanutty Cristo Breakfast Sandwich

Recipes © Copyright The J.M. Smucker Company. All other material © Copyright 2005- 2015 Lifestyle Direct, Inc. All rights reserved. Images are the copyright of their respective owners.