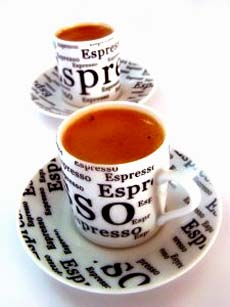 What's a Caffe Americano? The difference between demitasse and espresso? It's generally not printed on the cup! That's why our Coffee Glossary is such a popular article. Photo by Gokhan Okur | SXC.


Best Food Articles
What's Trending On The Nibble:

Our Most Popular Articles
5. The Difference Between Brie & Camembert
7. Food Videos
9. Best Hams
10. Cheese Glossary
11. Gourmet Macaroni & Cheese Recipes
13. Probiotic Foods
14. How To Brew The Perfect Cup Of Tea
15. Coffee Glossary
17. Conduct Your Own Chocolate & Wine Tasting
18. Pairing Varietal Honeys With Foods & Beverages
20. The Aromas & Flavors Of Coffee
© Copyright 2005-2015 Lifestyle Direct, Inc. All rights reserved. Images are the copyrights of their respective owners.