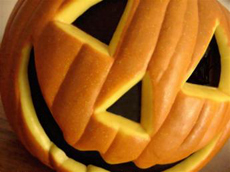 Instead of just a centerpiece, make every plate part of the holiday celebration. Photo by Pam Roth.


Seasonal & Holiday Dishes
Set A Festive Holiday Table
We love sprucing up the dinner table with seasonally-themed dishes—the kids love it too. We'll be adding another set of seasonal dishes each month. You don't have to buy porcelain dishes, of course; but it's nice to have quality in whatever material you choose—they'll become part of your family tradition. Our budget-saving tip is to wait until the seasonal wares get marked down (often, right before the holiday and certainly, the day after) and buy them for next year.
Reviews
Christmas & Winter
Fall & Halloween
Summer
Thanksgiving
Valentine's Day
For the most beautiful solid color glass plates and bowls we've seen, in every color of the rainbow needed for seasonal and holiday themes, see the Love Plates collection from European Sources Direct.
Nibble Tip

If you don't have the space or budget to buy several sets of themed holiday dishes, mix-and-match colored glass plates. Eight dinner plates in three or four different colors will take you through the year. Red for Valentine's Day, Independence Day and Christmas also mixes with yellow, orange and green for a fall foliage theme. The orange doubles for Halloween and Thanksgiving, the green for St. Patrick's Day, spring, summer, and Christmas. Blue is beautiful for Chanukah and all Jewish holidays—or the blue ocean and sky of summer. Each family member can pick his or her favorite color for birthday dinners and other celebrations, too.

Heart plates by Annieglass.



Related Food Videos:



For more food videos, check out The Nibble's Food Video Collection.


© Copyright 2005- 2015 Lifestyle Direct, Inc. All rights reserved. Images are the copyright of their respective owners.