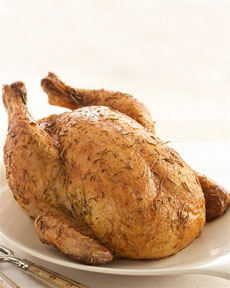 If your family loves broiled chicken, it's time to invest in a rotisserie. Get the recipe for this rosemary-roasted chicken at McCormick.com.
KAREN HOCHMAN is Editorial Director of THE NIBBLE.

10 Appliances For Low-Calorie Cooking

Page 2: Countertop Grills & Vertical Rotisserie For Low-Calorie Meals
This is Page 2 of a four-page review. Click on the black links below to visit other pages.
3. George Foreman-Type Grill
If you aren't grilling and broiling more because you don't have a convenient outdoor grill or lack an effective broiling unit in your stove, join the millions of Americans who have found grilling happiness with the George Foreman grill and its legions of followers. Foreman's "lean mean grilling machine" is one of the fastest and easiest ways to cook a healthy dinner and can be cleaned with a damp sponge or paper towel. Half a dozen George Foreman cookbooks provide recipe inspiration.
The benefit of this type of grill over open countertop grills is that it cooks both sides of the food at once.
In addition, there are five removable grill plates; the other four are for baking, a flat-top griddle, panini-making and waffles.
This "Next Generation" George Foreman Grill has 84 square inches of cooking surface.

Learn more about the George
Foreman Next Grilleration Grill.

Several other models are available.

Grill yourself healthy with this George Foreman Grill.
4. Cuisinart Vertical Rotisserie
Many people think that they should pick up a roasted-and-ready chicken for healthy eating. But you can make your own roast chicken with little effort, and add better herbs and other seasonings for more flavor (or a different combination of flavor accents every time).
The Cuisinart Vertical Rotisserie, a space saver, easily roasts a 4.5-pound chicken and up to 8 pounds of beef, lamb or pork. The meat bastes in its own juices as it rotates.
Fat falls into a removable drip tray for healthier-than-oven roasting.
You can cook in other styles as well, with the included eight-piece skewer set, multi-purpose basket and recipe book. You can also pick up easy rotisserie cookbooks for additional recipes.

Learn more about the Cuisinart
Vertical Rotisserie.


Fill the kitchen with delicious roast chicken aroma with this Cuisinart Vertical Rotisserie.
5. Sanyo Indoor Electric Barbecue Grill (Hibachi)
If you're not a George Foreman grill fan, try a hibachi. A small cooking stove heated by charcoal, it's modern indoor version is electric. Plain broiled chicken or fish and vegetables can become exciting kebabs: Food-on-a-stick is fun. The fat drips into an easy-to-clean tray.
Sanyo makes two sizes of indoor electric barbecue grills: 120 and 200 inches. Unless you're often cooking for one, go for the larger size.

You can make skewers (kebabs); a favorite diet treat. If you entertain with any frequency, you can also turn out skewers and other grilled hors d'oeuvres with ease.
A main benefit with this grill over George Foreman types is grilling space. This model has more than 300 square inches of grilling space (more than 230 for the smaller model), as opposed to 84 inches with the Foreman.

Learn more about the Sanyo 200-
Square-Inch Electric Indoor
Barbeque Grill.

Grill up a storm with this Sanyo Electric Indoor Barbeque Grill.
Continue To Page 3: Pressure Cooker, Modern Wok, & Vapor Cookware