Gourmet Chocolates: Page 3
Cadeaux Chocolates
Cadeaux is the French word for gifts, and each of Janet Shimada's chocolates is like a perfect gift in miniature. The carefully-chosen shapes and decorations indicate that a great deal of thought has been put into each piece. You'll quickly discover that the same holds true of the flavors when you take a bite.
Unquestionably, my favorite here is the Praline. The dark chocolate exterior hides a delicate hazelnut taste, and there's a little crunch to the piece, a lovely textural counterpoint. You'll find a nicely chewy Chocolate Caramel, too, with a solidly good chocolate flavor (I have tried to make a good chocolate caramel at home repeatedly, but have never been able to do this, so it's an accomplishment).
And I'm betting that the Bittersweet with Vanilla Bean is greatly underappreciated. It's a very simple concept, but chocolate and vanilla are such complex tastes that an ideal combination of the two (such as is found here) is a noteworthy feat. Ms. Shimada makes it much too easy for you to think you should try "just one more" of her chocolates.
The bonbons are packaged in a handsome, minimalist matte black box.
Note that this business does not have online ordering at the time of this writing. You can find these chocolates in Seattle and environs; otherwise, you must contact Ms. Shimada to arrange for shipping.
Phone Janet: 1.206.310.1142.
Keep checking the website for
e-commerce.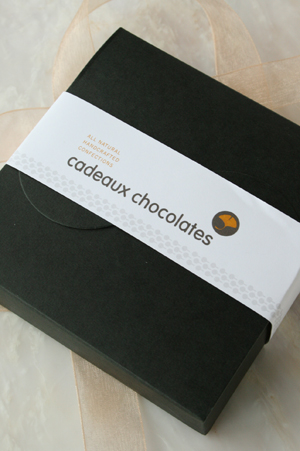 — Stephanie Zonis
Next Up: Christophe Artisan Chocolatier.