Gourmet Chocolates: Page 8
WR Chocolatier
When I was younger, fine chocolatiers in the Southeastern U.S. were rare, if they existed at all. My, how times have changed!
Teresa Wilkerson is one of a growing number of upscale chocolatiers in the Carolinas, and her products demonstrate that she can compete with anyone making chocolates in America today.
The photos on Chef Wilkerson's website don't do justice to her elegant chocolates. And if you think their appearance is sophisticated, wait until you taste them!
The Mocha bonbon is as suave as Casanova, with a gorgeous coffee taste in a dark chocolate ganache. The piece's smooth-as-silk texture is punctuated with a few cocoa nibs sprinkled atop.
Be sure to try the Cinnamon Hazelnut, with an appealing two-tone filling. A layer of white chocolate-cinnamon ganache sits atop one of hazelnut praline in happy harmony.
Craving something a little more on the wild side? How about the Habanero Orange, with fresh orange and habanero pepper in dark chocolate (photo above0?
Otherwise, the offerings are classics, from anise, espresso, Key lime, lemon, peanut and raspberry to passionfruit and salted caramels.
The black matte box is modern and minimalist.
The chocolates are also available as Truffle Pops on lollipop sticks. They'd be fun for parties or wedding favors.
— Stephanie Zonis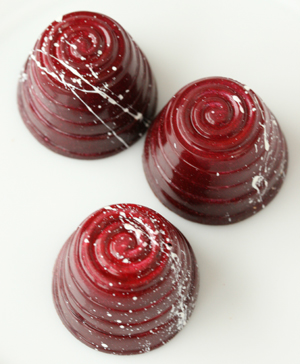 Raspberry ganache-filled chocolates.