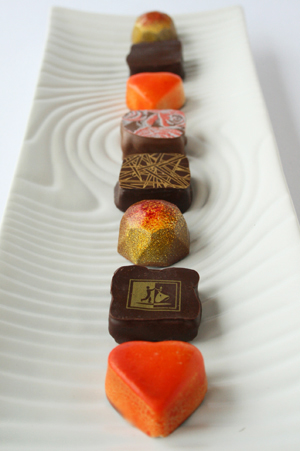 Landru Chocolates is located in Alameda County, California, across the San Francisco Bay from Palo Alto. All photography by River Soma | THE NIBBLE.
WHAT IT IS: Artisan chocolates from six American chocolatiers.
WHY IT'S DIFFERENT: Each chocolatier has a different approach to handcrafting chocolates.
WHY WE LOVE IT: We love that American artisans make such beautiful and delicious chocolate!
WHERE TO BUY IT:
LandruChocolates.com

Gourmet Chocolates: Page 6
Landru Chocolates
I remember my first taste of a Landru Chocolate. I had cut one of the Cointreau pieces in half, a standard procedure (I always like to see how a piece looks inside before I eat it). I bit into one half and immediately started to smile. This is what good chocolates should be about; they should make you happy.
The Cointreau bonbon has a wonderfully rich dark chocolate-orange ganache filling, with bits of texture from orange confit. All of this is presented in a "painted" white chocolate shell. This classic mix of tastes is executed perfectly by Chef Oscar Baile.
The Landrumenthe (Landru mint) was the most surprising chocolate I tried from this chocolatier, because the interior is green. Usually, all-natural white ganaches don't have colors. However, the white chocolate cream is infused with crème de menthe liqueur. It's a fine pairing with the dark chocolate shell.
The Salt Caramel is a rustic-looking, chewy square, with a bit of coarse salt atop. There's a nice depth of flavor to the caramel, and the balance between sweet, salt, caramel and chocolate is right on the money.
I wasn't able to try Chef Baile's pâtes de fruit, but there is a wine collection that includes Cabernet, Chardonnay, Merlot and white Zinfandel, all made with real wine (as opposed to extracts).
Chocolates are available in collections, including the Happy Heart, which features heart-shaped truffles in a half-dozen colors and flavors—perfect for Mother's Day, Valentine's Day, or a general romantic message.
— Stephanie Zonis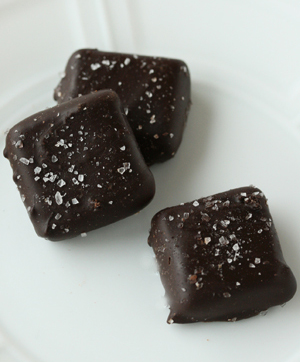 Salted caramels.
Next up: Marcie Blaine Artisanal Chocolates.