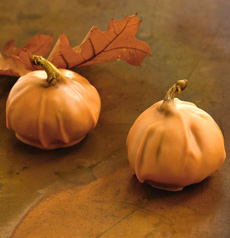 Fragile calabacita figs from Spain are filled with a delectable whiskey clove ganache, then dipped them in a thin layer of white chocolate tinted a perfect shade of pumpkin. Made by JohnAndKiras.com, these Fig "Pumpkin" Bonbons are sure to delight.


October is a "restful" month between the "back-to-school" and holiday rush periods. But it's also Fall Harvest season ... and an opportunity to eat a lot of gourmet Halloween Candy (see the Table of Contents below).

For a special treat, to celebrate National Popcorn Month, Dale and Thomas is offering two bags of their delicious chocolate- or cinnamon-coated popcorn FREE. It's no trick—just pay $2.95 per bag for shipping and handling. Enjoy it yourself, or share with a friend (including kosher friends). Available at DaleAndThomas.com through the end of the month.
In addition to this monthly online magazine, we e-mail our Top Food Pick Of The Week newsletter to opt-in subscribers. If you don't already receive it, click here to have it delivered directly to your e-mailbox. Of the thousands of specialty foods we taste each year, these 52 weekly recommendations are our favorites for both home use and gift-giving. You won't want to miss them!
THE NIBBLE™ does not sell the foods we review
or receive fees from manufacturers for recommending them.
Our recommendations are based purely on our opinion, after tasting thousands of products each year, that they represent the best in their respective categories.

TABLE OF CONTENTS
THE NIBBLE Online Magazine

OCTOBER 2006
This Month's Nibbles

WEEKLY NIBBLES

Newsletter


Gourmet News

| | |
| --- | --- |
| | Click here to read the weekly Gourmet News—industry news and perspectives |

GOURMET FOOD PRODUCT REVIEWS

Product Reviews

Main Nibbles™

Diet, kosher & organic products are reviewed below. Main Nibbles products that also are diet, kosher and/or organic are re-listed in those sections.


Find more than 1000 articles and reviews in prior months' issues and newsletter archives (top picks of the week).

Product Reviews

Diet Nibbles

Product Reviews
& Articles

Kosher Nibbles

Product Reviews

NutriNibbles

Organic, Natural &
Wellness Foods

ARTICLES & COLUMNS

Features/Reference Articles
We look forward to your comments and any suggestions you have about how we can make THE NIBBLE™ magazine and newsletter more valuable to you. Click here to send us a note.



Related Food Videos:



For more food videos, check out The Nibble's Food Video Collection.


© Copyright 2005-2015 Lifestyle Direct, Inc. All rights reserved. Images are the copyright of their respective owners.